Let's Talk Festive Fashion Season
It's begun.
Out of nowhere, the all-powerful December DJ has Michael Bublé playing everywhere you go. The department stores are decked in even more bling than the 100 rings in your secret Wedding Folder on Pinterest. Decorations are everywhere, parents are frazzled, and half your office has checked out.
Yep. It's beginning to look a lot like Christmas.
But as all worker-bees know, one event runs supreme over all others:
The Annual Christmas Party.
Weeks before, invites start creeping in.
'Office Christmas Party – Dress Festive!' and 'Holiday Drinks-Dress How You Feel!' but we know they want you to dress how they feel - Chanukah earrings, Kwanzaa kufi and Home Alone jumpers a plenty.
You know you need to make some sort of effort. The work suit is stale, and you don't want to come across like old bread. But while getting invites to anything makes your feel popular, all these one-off pieces add up financially, and if you're not careful, your new Marie-Kondo inspired capsule wardrobe is going to be covered in green, white and red- oh, the ultimate January faux pas!
So, rather than stealing Mum's tinsel from her tree, wrapping it around your neck and calling it a day, let's break down the best way to get around Festive Fashion Season – without spending your life savings.
The Office Christmas Party
If you're with a company that has money to burn on the end of year party – well first off, yay for you! Bonus points if they've got a full-blown theme, party outfit committee and exciting venue (read: anything where they take the cheque and charge it, please!)
That said, all this EXTRA-ness may tempt you to spend money you don't have, on things you don't want, that you'll never wear again. That's not festive. That's financial failure.
You don't need to break the bank to look good. Plus, if the theme is super formal, then you may not need that velvet dinner jacket or ballgown again for some time.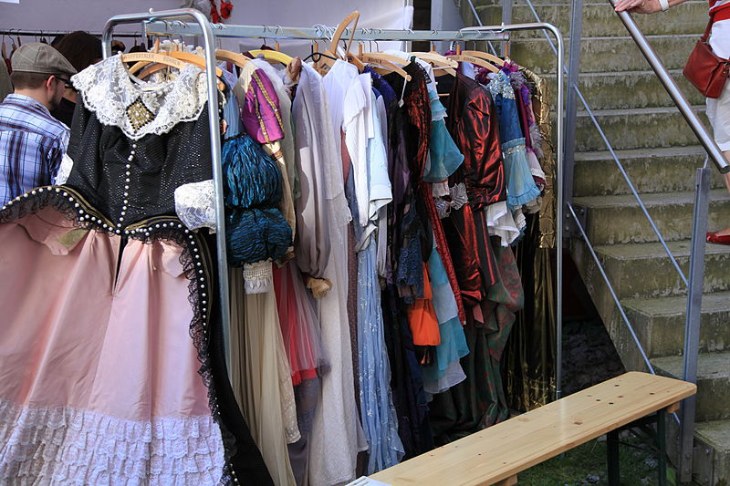 Blazer, LBD, Jeans, Medieval wench costume, just the basics…
Source: Wuppertal
Instead, you could:
Rent, not buy – fake it 'til you make it, baby! Try a local costume store or fashion rental website for a memorable costume – but not one you need to make room for in your closet.
Thrift Shop – It was 99 cents! Head to your local thrift store for a fun dress up – you never know what you might find!
Borrow from a friend or family member – Aunt Jude's been dying for someone to show off the pearls a wartime marine gave her in Monaco.
The Ugly Christmas Jumper Party
Even though in Oz you're more likely to be wearing a Santa singlet than a Jingle Ball Jumper, Aussies love the idea of the ugly Christmas Sweater theme coming to our shores – it's all about having a laugh, after all! So, how to get the best Christmas jumper/sweater/singlet (top?) that'll keep the town talking?
There's plenty of websites that have (work-appropriate) festive gear with funny prints and slogans, so degrading yourself with home-brand craft jobs is no longer necessary, and frankly- it's just awkward for everyone.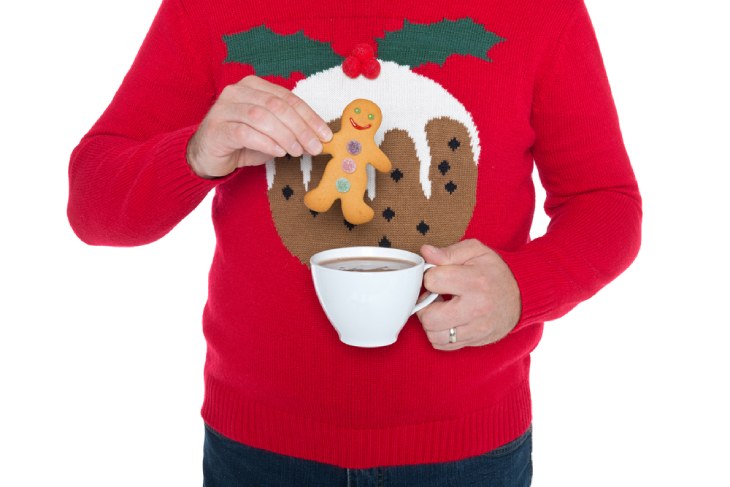 There's certainly a wide selection of ugly Christmas jumpers online
With super fun and cost-effective holiday options, buy-now pay-later options like LatitudePay mean you can easily grab a cheeky Chanukah shirt or quotable movie jumper and spread the cost over 10 weekly payments, rather than having to come up with the cash over the expensive holiday season all in one go.
Your Own House Party
The best. Your home, your rules. Whether you've been cooking for weeks, or just cracked open the chicken chips and called it a day (guilty) – the theme is up to you!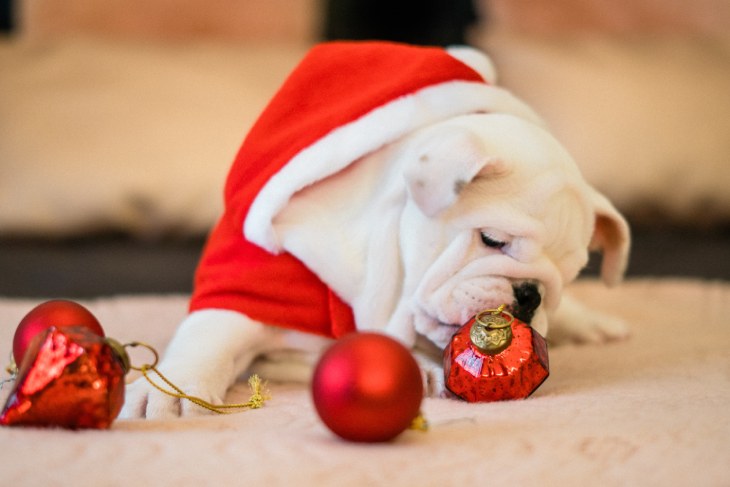 It's a party if it's just me and the dog, right?
You can dress up or down, from full-blown festive to Santa-themed boardies and thongs. But whatever you do sets the tone, so make it last – whether it's renting, op-shopping, borrowing, easily using LatitudePay for your outfit and a matching one for your dog, make your festive season fabulous- for you and your wardrobe's sake.