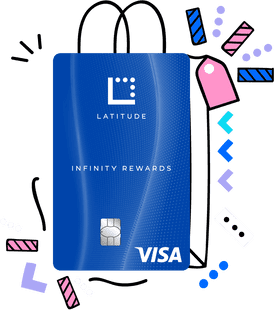 Latitude Infinity
Rewards Visa
The Latitude Infinity Rewards Visa is no longer taking new applications. If you're after a flexible card alternative, view all our credit card options.
Already using Latitude Infinity Rewards Visa card?
Don't forget these great features.
Digital wallets
You can pay any way on your phone or wearable tech device with just a tap. Find out more.
No annual fee
Enjoy no annual fee and rates that are easy to understand.
Stay on track with your spending
With the Latitude App, it's never been easier to manage your payments and stay on top of your due dates.
Rates, Fees and Conditions
0%
on purchases up to 55 days1
standard purchase interest rate
cash advance interest rate
Frequently asked questions
Your credit limit
Managing your account
Is this Credit Card right for me?
Update your details
Benefits for Platinum customers
Gambling and lottery
1To take advantage of up to 55 days interest free on everyday credit card purchases, you need to pay the full closing balance (excluding un-expiring 0% Interest Payment Plans) on each statement of account by the applicable due date.
*Does not include cash transactions, cash equivalent transactions, extended interest free promotional purchases, balance transfers, insurance premiums and interest, fees and charges
Apple, the Apple logo, Apple Pay, Apple Watch, Face ID, iPad, iPhone, Safari, and Touch ID are trademarks of Apple Inc., and App Store is a service mark of Apple Inc., registered in the U.S. and other countries.
Samsung and Samsung Pay are trademarks or registered trademarks of Samsung Electronics Co., Ltd.
Garmin, the Garmin logo, and the Garmin delta are trademarks of Garmin Ltd. or its subsidiaries and are registered in one or more countries, including the U.S. Garmin Pay is a trademark of Garmin Ltd. or its subsidiaries.
Fitbit and the Fitbit logo are trademarks or registered trademarks of Fitbit, Inc. in the U.S. and other countries.
Google Pay, Android, the Google Pay Logo, Google Play and the Google Play logo are trademarks of Google LLC.
Visa and the Visa brand are registered trademarks of Visa International.
® Registered to BPAY Pty Ltd ABN 69 079 137 518
Credit provided by Latitude Finance Australia ABN 42 008 583 588, Australian Credit Licence number 392145.
Latitude Infinity Rewards Platinum Visa card customers who book their international travel with Luxury Escapes qualify for two complimentary lounge passes in "The House" in Sydney or Melbourne and "My House" in Brisbane. This benefit is available once per calendar year for each card account and cannot be converted into cash. It must be used within the calendar year and is not transferrable to another person. Lounge access is subject to availability. Usage of lounge is available for three hours prior to flight, with the opportunity to purchase extra hours while in-lounge if required. The lounge provider may have other entry or usage requirements. Please refer above to the FAQs for additional information on this benefit.