Is Latitude Gem Visa right for you?
0% Interest
Enjoy 6 months Interest Free on Visa purchases over $250 1 and up to 55 days 2 Interest Free on purchases under $250.
Streamlined rates and fees
Our rates are easy to understand and you'll only have to pay one manageable annual fee.
Safe and secure
Shop in the knowledge that your card and account are protected by stringent
Our fraud protection promise to you
Your Latitude Gem Visa card is protected by robust security measures – both when you shop in-store and online – so you can spend safe in the knowledge that we've always got your back.
Stopping fraud in its tracks
As soon as a suspect transaction is detected, our card security experts get to work immediately reviewing any suspicious activity while taking necessary action.
Shop securely online with Verified by Visa
The moment you make a purchase online, Verified by Visa validates it in real-time to help reduce credit card fraud and unauthorised credit card use.
Money back guarantee
If there is fraudulent activity on your Latitude Gem Visa card, you will not be held liable – provided you notify us promptly, have not contributed to the loss and have stuck to the Conditions of Use.
Safeguard your spending
Make sure your Latitude Gem Visa account is covered with
Shopper's Protection insurance covers your Latitude Gem Visa monthly repayments in the event that your income is stopped due to illness, injury or involuntary unemployment.
It also covers your purchases for any theft, price reduction or accidental damage that occurs within the first 12 months.
Here's how it works:
Price Protection
This means never having to miss out on the sales again. If you buy something with your Latitude Gem Visa card and see it has dropped in price at the same retailer within 12 months of buying it, we'll refund the difference.
Merchandise Protection
If your card purchases are lost, stolen or damaged within 12 months of buying them, we'll refund any repair or replacement costs straight to your account.
Stolen Card Protection
If your Latitude Gem Visa card is stolen, we'll pay $200 to your account just for the inconvenience.
Balance Protection
If you lose your job, or can't work due to sickness or injury, we'll pay the balance of your account, up to $5000. If you should die, we'll pay the balance in full – up to $20,000.
Affordable Protection
You can enjoy the peace of mind of Shopper's Protection for just 1% of your monthly closing balance -- up to a maximum of $50 per month. It's automatically debited from your card account, so there aren't any hidden costs or extra bills to pay and you'll always see the premium on your statement.
Interest rates and fees
Interest rates:
for 6 months on everyday Visa purchases over $2501
for up to 55 days2 on everyday Visa purchases under $250
standard Visa purchase interest rate
Fees:
| | |
| --- | --- |
| Annual fee | $99 |
| Monthly account keeping fee | $0 |
| Establishment fee | $0 |
| Paper statements | $2.50 per statement |
Cash advance fee
$3 or 3% of the cash advance, whichever is greater. You'll never pay more than $30
International transaction fee
3% of the purchase or cash advance
Late fee
$30
Payment handling fee
$2.50 (in person)
$0.95 (online)
Making the most of your Latitude Gem Visa
Everyday use
There are lots of ways to make your work for you.
Interest Free offers
Take advantage of 12, 18 and 24-month Interest Free payments plans from a range of retailers.
Start shopping
Find a participating store near you and start your Interest Free spending spree today.
Special offers
Enjoy exclusive deals, discounts and offers by simply using your Visa card at home or overseas.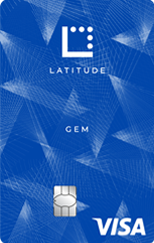 3 steps to enjoying your own
Apply online
Check your eligibility and complete your application in less than 10 minutes.
Get your approval
We will give you a response on your application in under 60 seconds.
Get your card
If approved, you'll be able to shop with your account number straight away.
Application checklist:
To be eligible, you must be:
At least 18 years of age
A permanent resident of Australia
And make sure you provide the following:
Driver's licence, passport or proof of age card
Details of your income, assets and liabilities
Your employer's name and contact number
Cover yourself with credit card insurance
You never know what's going to happen down the track, so why not take out insurance to protect yourself against the unexpected. Apply for this cover as part of your application or at any time after by calling us.
Free call on 1800 800 230.
Frequently Asked Questions
Application and activation
Like most financial institutions, we work on a credit check system and we consider if the card is unsuitable for you given all the circumstances. We also need to make sure we are identifying the right person, to prevent fraud. We take many things into consideration when reviewing an application. And, while we don't disclose the specific details of our criteria, if you're declined we'll let you know in writing.

If you apply online and provide all the necessary information, we can give an answer on your application within 60 seconds in most instances. If you apply in-store you'll also receive a response quickly.

In some instances further information may be required to process an application. If further information is required we will inform you during the application process.

You will need to activate your card before you start to use it. (This helps us ensure the right person has received your card). Don't forget to sign your card immediately.

To activate your card call

1300 630 977

. When you are activating your card, please follow the prompts to select your own Personal Identification Number (PIN). After this your card will be ready for use.

To activate your card call 1300 630 977. When you are activating your card, please follow the prompts to select your own Personal Identification Number (PIN). After this your card will be ready for use.
Your credit limit
You'll receive a message within 2 business days via either email, SMS or post from the time your account goes over limit. This is a free service provided to you. You should only receive one over limit alert between each statement period. There are no charges for going over your credit limit.

We recommend checking your transactions and monitoring your balance via the

Online Service Centre

. If you're not yet registered,

register now

.

If you apply online you'll be notified of your credit limit when your application is approved.

Your credit limit can also be found on the top right of your monthly Latitude Gem Visa statement. Alternatively, you can log onto the

Online Service Centre

to check it at any time. It's important to note that your credit limit can be different from your available cash limit.

Your available cash limit can be found under 'Account Summary' in the Online Service Centre. It's also available on your statement. It's important to note that your available cash limit can be different from your credit limit. Please note daily cash withdrawal limits apply.

We are able to review your credit limit every 6 months.
Managing your account
We offer convenient ways to pay - via the Online Service Centre, Direct Debit, BPAY® or in person - whatever suits you best.

If you use the Online Service Centre via "Pay My Account", you should be aware that payments can take 3-5 business days to clear and you can only make one payment to your card account every 5 days. We do not charge you a fee for payments made via the Online Service Centre.

With BPAY you will need to use your credit card account number as the reference number. This can be found in the top right-hand corner of your statement.

Please note a Payment Handling Fee of $0.95 applies for all payments made via BPAY to pay your card account.

If you're paying by BPAY on your due date, make sure you complete the transaction before your bank's cut off time, otherwise the transaction may be processed on the following day. Remember that some BPAY payments can take up to 3 days to appear on your account.

You can change/update your contact details through the

Online Service Centre

. Once logged in, you can change your details under Manage My Details. If you're not yet registered,

register now

.

To share the benefits of Latitude Gem Visa with a family member or loved one, add an additional cardholder using our

online application form

.

You can make an insurance claim online or by downloading a form.

Make a claim

and find out more.

If you are having difficulty making your minimum monthly repayments please talk to us. The sooner you contact us, the more likely we will be able to assist you. Call us on 1800 220 718 (9am - 5pm, Monday to Friday AEST).
Important Information
1 Extended Interest Free terms may vary. Available at participating retailers to approved applicants only. Conditions, fees and charges apply.
2 To take advantage of up to 55 days Interest Free on every day credit card purchases, you need to pay the full closing balance (excluding un-expiring 0% Interest Payment Plans) on each statement of account by the applicable due date.
3 The same rate applies to interest bearing balances such as cash advances and outstanding retail purchases balances after an interest free promotion period is over. Interest on over $250 Interest Free or promotional purchases is not backdated, so you only pay interest on the remaining balance of those purchases from when your Interest Free period expires.