10 Outrageous Things You Can Actually Have at Your Wedding
There's no doubt that weddings are a pricey exercise. But if you want to go all out, there are a few special 'extras' if you throw the budget out the window.
Forget photo booths and confetti, it's time to think private yachts and art installations. The wedding game has stepped up a bouquet or two and there is no shortage of services that help couples go that extra mile to plan a day, night or week of marital celebration that won't be forgotten.
Online news and social media platforms has given us a glimpse of the truly spectacular when it comes to weddings - from royal weddings televised across the country to the latest celebrity glamfest in the tabloid magazines.
Three-day long celebrations, 10 foot tall wedding cakes, canine ring bearers: if you're willing to throw the budget aside, almost anything is possible for your special day.
You've got all the inspiration and wow-factor ideas for the big day, but if you're left wondering what can take it to the next level, let us help.
We've done the hard work for you and gathered some of the most out-there, extravagant wedding ideas, along with their price tags to help you budget for your special day.
All that's left now is to book, but we'll leave that to you.
An overview of outrageous things you can get at your wedding with price tags.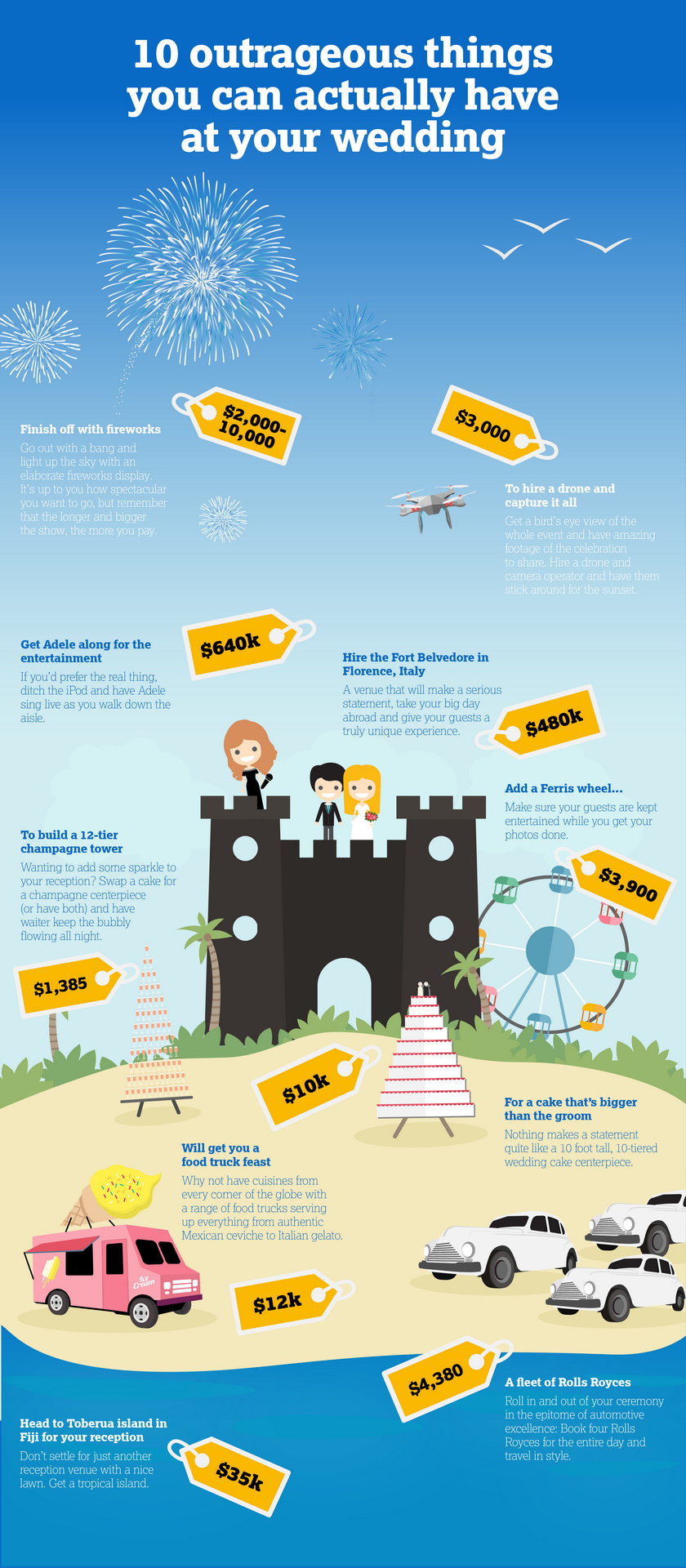 $480,000 Hire the Fort Belvedore in Florence, Italy
A venue that will make a serious statement, take your big day abroad and give your guests a truly unique experience.
$640,000 Get Adele along for the entertainment
If you'd prefer the real thing, ditch the iPod and have Adele sing live as you walk down the aisle.
$35,000 Head to Toberua island in Fiji for your reception
Don't settle for just another reception venue with a nice lawn. Get a tropical island.
$12,000 Will get you a food truck feast
Why not have cuisines from every corner of the globe with a range of food trucks serving up everything from authentic Mexican ceviche to Italian gelato.
$10,000 For a cake that's bigger than the groom
Nothing makes a statement quite like a 10 foot tall, 10-tiered wedding cake centerpiece.
$4,380 A fleet of Rolls Royces
Roll in and out of your ceremony in the epitome of automotive excellence: Book four Rolls Royces for the entire day and travel in style.
$3,900 Add a Ferris wheel...
Make sure your guests are kept entertained while you get your photos done.
$2,500-$10,000 ... and finish off with fireworks
Go out with a bang and light up the sky with an elaborate fireworks display. It's up to you how spectacular you want to go, but remember that the longer and bigger the show, the more you pay.
$3,000 To hire a drone and capture it all
Get a bird's eye view of the whole event and have amazing footage of the celebration to share. Hire a drone and camera operator and have them stick around for the sunset.
$1,385 To build a 12-tier champagne tower
Wanting to add some sparkle to your reception? Swap a cake for a champagne centerpiece (or have both) and have waiter keep the bubbly flowing all night.