Travel boom as nine in 10 New Zealanders expected to travel this summer
13 December 2021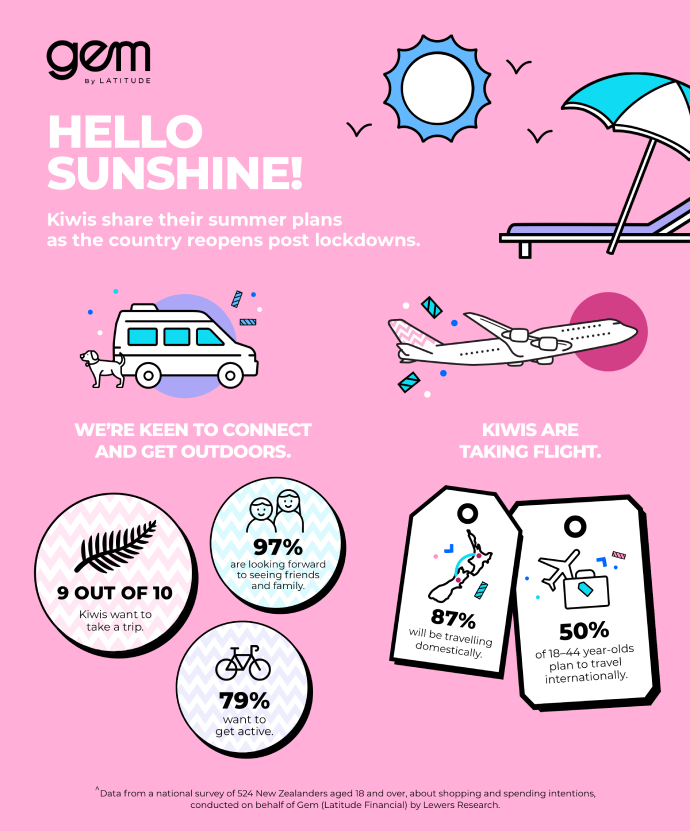 A survey by Latitude Financial has found New Zealanders are expected to travel in greater numbers than ever as domestic borders re-open, with as many as 87 percent planning a trip this summer.
Catching up with family and friends is the principal driver of people's holiday plans, with the survey showing 97 percent of respondents are looking forward to connecting with loved ones this summer.
Holidayers are also looking to enjoy some adventure after two years of COVID-19 disruption spent in the sanctuary of their home. Seventy nine percent of travellers are seeking active holidays, where they can experience the great outdoors or feel unconstrained by their travel movement.
While most holiday makers are planning a domestic trip, four in 10 plan to travel overseas as soon as they can, including half of the 18 – 44-year-olds surveyed. This follows the recent announcement on how we will reconnect to the world.
"New Zealand is entering a travel boom as people look to get away and enjoy their freedom after the COVID lockdowns and border closures. It seems we all want some travel excitement back in our lives this summer,'' said David Gelbak, Chief Country Officer.
"Gem's travel survey is significant because it proves that people are now willing and able to break free after the past two years and go see the family or friends they have missed, in a COVID-safe way of course,'' said Gelbak.
Gem's survey of 500 people about their travel intentions this summer matches the experience of leading travel company and Gem partner House of Travel.
Celeste Ryall, Customer Engagement Director, said their top domestic travel destination booked for the summer of 2021-22 were classic Kiwi favourites like Queenstown, Coromandel and the Nelson region and when the border opens the top international travel destination is Australia.
"Our consultants are incredibly excited to be working with customers to set up their dream itineraries, whether it be a summer excursion to one of New Zealand's hidden gems or the much-anticipated overseas holiday once quarantine-free travel resumes. Travel is the lifeblood of our consultants, and we can't wait to help Kiwis see the world in 2022."
For More information:
Media contact
Frederika Walls
Frederika.Walls@latitudefinancial.com
+64 21 982 105
About the survey
Data from a national survey of 524 New Zealanders aged 18 and over, about shopping and spending intentions, conducted on behalf of Gem (Latitude Financial) by Lewers Research.